Woohoo for stashbusters!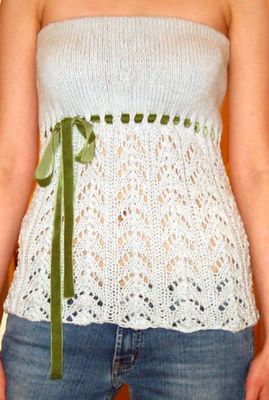 Pattern: Lelah (size M) designed by Christine
Materials: GGH Samoa (stash, less than 500 yds), 2 yds green velvet ribbon (Joann), US 9 and 7 circular needles
Notes: 9 lace repeats, 7" bust area w/ 1" allowance for elastic, 3/4" elastic band.
Finished size: 29" on top to fit my 34" bust
This was a fun knit. Quick and easy. My stash was stressing me out and I got to frog a failed project to make this tube top. My bust looks a little "bunchy" in the pic because I had to tuck in my bra straps. Now where the heck did I put my strapless brassiere? I might make another in black Wool Ease just to bust my stash some more. Special thanks to Christine for this pretty design.