Flower Basket #1 Debut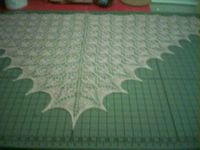 I finished the misti alpaca flower basket shawl last night. This was a labor of love in the beginning... but towards the 4th or 5th repeats (after ripping out entire rows for the umpteenth time.. boy this alpaca can take it) it was a breeze. I worked on this shawl off and on for about 4 days.. so imagine how much faster this baby would have been completed without the frogging? I included 8 repeats of the chart, since there was still a lot of yarn left. When I completed it and looked at the left-overs, I could see myself extending the pattern repeats to 10 instead of the original 7 called for in the pattern. This picture might seem a little blurry, but that's because I don't have access to BF's digital camera right now so the cell phone's low res pics should do.
Alrighty, gotta start working on FBS#2 now. Hee hee.
P.S. Did anyone notice? It's on the blocking board... that means I gotta start blocking the Lucky pieces now.. which means I have no excuse to put off the seaming. *faint*