Side track projects
this weekend the first sleeve of the lucky is completed. now there's one more sleeve left to do, then basically the sweater pieces will enter the blocking stage. i've never blocked anything before, so i probably should scoot over to the KAL and ask the more experienced knitters what the best blocking methods are for cotton. anyhoo... some progress shots of my other diversions when i get bored on the clover laces.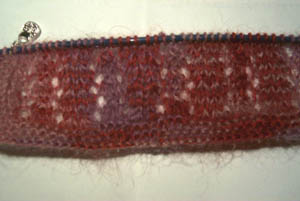 This is the angora yarn that i was talking about in the last post that i didn't know what to do with. i can't say i am feeling the little leaves... so i started looking around the internet and decided that 1800yds of angora should be made into a Flower Basket Shawl. Alas.. that magazine is out of print and the only places that have them will rip me off 10 bucks just for that pattern alone. argh. i am too cheap to fork that money over.. so i guess i'm doomed to NOT make the flower basket shawl. but i'll still be on the look-out though.


okay.. on a happier note. this is minty hush slowly and steadily growing. still on the stockinette stitches right now.. so that's that.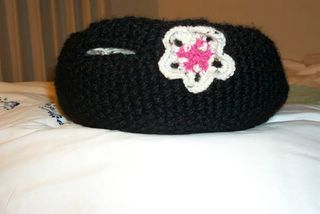 and last but not least, when craving for instant gratification, just whip out a 10.5 needle and some Thick'n' Quick yarn and you got a basket to hold your yarn. The flower motif looks a little wonky here but i plan to make tons of these babies in the future with my left-over yarns. The design is by Nicky Epstein for the Vogue winter issue knitting mag.

alrighty.. if anyone has the Flower Basket Pattern from the Interweave magazine that they have knitted and would like to sell their mags, please shower your good graces on this humble newbie here. pretty please?!?!