V is for V-necks, and Victory for me.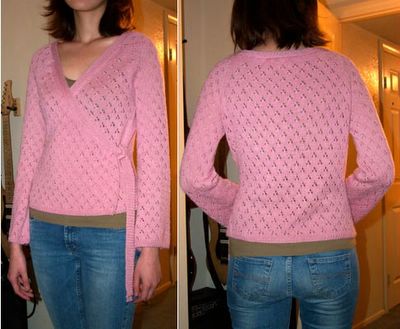 Pattern: Lucky Clover Lace Wrap (size Small)from SNB Nation
Duration: March 1 2005 to April 24 2005 (off and on)
Materials: Brown Sheep Cotton Fine in Victorian Pink
Notes: For those of you who are going to seam this little sucker, seam the

shoulders

, sleeves and sides (

I also seamed the waist band to the sides together in one go

) first. Make the neck band, then sew it to about 2" away from the part where you connected the front and sleeve, then mattress stitch 2-3 sts from the front pieces to 1 st from the neck band. This allows the neck band to gather to a V-neck.

**

What I did was I wore the wrap, then threw the band over my shoulders and safety-pinned 3-4" sections (band to sweater) depending on how I want the v-neck to look. Then I stitched it accordingly.**

Continue this stitch method until you arrive to the other front piece, then mattress stitch every 1 st from the body piece to 1 st of the neck band. Trust me, I learned it the HARD way... unless you wanted a boatneck wrap sweater..
What I would have done different if I knew then what I know now: Make sleeves and body pieces longer. Cuz that's how I like it. But this is fine too, and NO, I am not making another one.
After thought: Granted this is not the best seaming the modern civiliazation has seen, but it's my first sweater, and it's 1000% me. Yes, 1000%.
** - Editted content