Mohair for free!!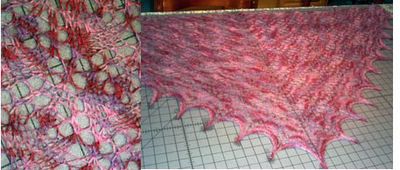 Project: Flower Basket Shawl #2 from Interweave Knits Fall 2004
Materials: Addi Turbo sz 7 32" circs, Alize 70% Mohair 30% PAC yarn (fingering/laceweight)
Notes: 8 lower basket repeats
So I completed FBS#2. This is a gift for a friend. I don't know how I feel about the variegated yarn, but I do know that I don't like working with mohair yarn. It feels like fiberglass when I was knitting it, but after the shawl was blocked, the yarn actually softened up a little. Or maybe I was just hallucinating. I have more than 1200 yrds left of this yarn.. so if anyone likes the plum, purple, pink variegated effect, maybe you can drop me an email and we can work out an exchange. I am currently looking for Interweave Knits Spring 2002 (hint hint). Or maybe if you catch me in a good mood (which I am in right now), I'll send it out as a gift. Hey, nothing with a little bit of random act of kindness right?