Little bit of a branch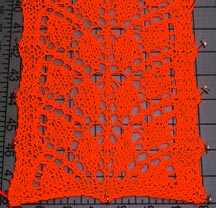 Semi-Project:
Branching out
from Knitty Spring 2005
Materials: Sz 7 circs, Briggs & Little 100% Wool sport weight (color: Hunter Orange)
Notes: Just playing around. No intentions of making this into a whole scarf unless I find suitable yarn. The lady from thewoolshoppe sent me a sample of this yarn and boy that color just pops.. you may need sunglasses just to glimpse at it. There were twigs and dried leaves in the yarn when I was knitting this (wtf? you say? yes, wtf indeed). There wasn't enough yarn to make a whole scarf.. just enough to make a neck warmer. But 100% wool with twigs and god knows what else in the yarn? This stuff ain't touching my skin that's for sure.
I also casted on for Bella Paquita. Was really excited because I am using Baruffa Maratona for this and then of course, at the BO row of the top section of the sweater, I managed to have different stitch counts for the sleeves.

Rip it.. rip it good.. rip rip it real good

... I think as I knit more, frogging detriments me less. Have I reached the zen-point? I would be freaking out a month ago. Or maybe it's because the Maratona yarn is so soft that I don't mind having to unravel and re-knit it? Hm. Or maybe I had to rip it out because I was supposed to CO for this sweater with
Joy
together and I sneakily started it while she was away to the MDSW? You never know.