Mademoiselle Clapotis..and etc
(please excuse Le Crappy Foto.. I don't have my bf's digital camera with me)
Pattern: Clapotis from Knitty.com
Materials: Lorna's Laces Shepherd Sport in Jay Pond (3 skeins @ 200 yds/skein) and sz 7 needles
Notes: I read that alot of people were exceeding the 600 yds called for in the pattern, and since I cannot justify buying one more skein of this expensive yarn just to use a few yards of it to finish, I decided to drop down a needle size. Instead of the 13 repeats total in Section 3, I actually have more than enough yarn to make 14 repeats. Looking at the remaining yarn I have, I think I could have pushed it to 15 repeats total. But hey, now we know, right? One surprising fact was that I had no idea dropping down a needle size could cause such a big difference in yarn usage. Live and learn....ladies..live and learn
Afterthoughts: Love this yarn. It's next-to-skin soft and oh so buttery. In fact, I ordered more yarn to make another. This is some romney fleece (yea, don't ask me what that is) that I won from an Ebay seller (
lidika
..who is very nice and delivers her items in a blink of an eye). Isn't the plum and green gorgeous? There's 700 yds total, so I am going to use sz 8 needles for this one and not have to worry about running out of yarn. What do I do with 2 lovely clapotis you ask? One of them might end up as a gift, but I haven't figured out who to give it to.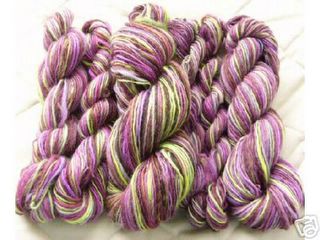 Okay, enough of the clappy. Let me tell you what I'm really excited about. It's my sunday outing with the lovely Andrea. We were planning to check out the yarn stores together in my area, but it being sunday, and it being a lazy day, we managed to hit 1 outta 3 stores. The other two were closed. Closed?!!?! Blasphemy. Nevertheless, she was thoughtful enough to bring her Phildar magazine collections (yes, she has a collection. I'm so envious) and we got so excited talking about knitting and patterns that we decided to cast on for a summer top together. And voila, this is she. She of the 2004 Phildar Tendences (Spring). I want mine in cream and apple green. We both ooh'ed and ahh'ed over the boxy yet drapey fit (you know those summer barbeques are coming up.. and this would be THE top to hide the gut that would ensue). I am thinking Knitpick's Shine, since there's been nothing but raves and more importantly, it is cheap-o. Ooh la la.. I'm going on a French streak here.
So what is this method of doing stripes by carrying the yarn so you don't have to weave in a gazillion loose-ends? I have googled but still don't have a clear idea of how to do that. Jogless something, they call it. Can you lovely knitters impart this special knowledge? Merci beaucoup. Until next time, I bid you adieu...