Dazed...
So recently, Andrea and I have been tossing emails back and forth about a little meet-up since we are both in LA. She mentioned Unwind, a yarn store in Burbank, and how she really likes that place. Ever since then, I've been curious. Curiosity turned into obsession, and I just had to go today. In a crazy state of mind, I braved the 6:30pm rush hour traffic and traveled across 3 freeways to check out the store. H.O.L.Y. S.H.I.T. The store was packed with so much yarn in so many colors and so many different fibers, I immediately entered a state of trance. The store-owner was really nice and friendly, and I just floated around and around the store. I think they introduced themselves, but I was too occupied with touching the yarn that their names totally slipped my mind. All I could think of was ~yarn...~yarn.. more yarn~. My eyes were totally glassy, and my brain was pretty much mush. See I had a goal.. I wanted yarn to make clapotis. Yea.. I know I am late to jump on the train..but after seeing Joy's and Kaitlyn's progress on their clappies, something about dropping stitches called out to me.
Bee-line to Lorna's Laces. Holy guacamole... this thing is divine. I didn't know what the fuss was about until I saw it in person. Granted, the colorways that I saw online were pretty, but nothing beats seeing and feeling yarn in person. I wonder if yarn feels molested sometimes...heh..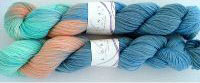 I could not leave without buying something -- after all, I did come from far and beyond. So I got 3 hanks of Lorna's Laces in Jay Pond. Ooh la la~ Clapotis here I come. Did I mention this yarn feels awesome-o? It's awesome-o. I would've splurged more, but I gotta eat too ya know. Plus, this sunday Andrea and I are meeting for the first time to go yarn-store hopping (doesn't blogger meet-up sound like online dating to you? It does to me) so I need to restrain myself. Yarn shopping alone is bad enough, can you imagine shopping with another fellow obsessive-knitter? *shudder* Must be logical. Must not be swayed by beautiful yarn. (we'll see how that pans out).
So I totally remembered how I got to the store, but after the purchase, still dazed and fucking delirious, I was totally lost. Kept circling around and around for half an hour before I could find the entrace to the freeway. High on yarn, my navigation was shot to shits. The drive home was a blur....Andrea, I don't know whether to thank you.. or curse you! I definitely envision myself in yarn rehab in a few years.. Hi my name is Winnie, and I am a yarnaholic.
*p.s. Natasha has gracefully accepted my offer on the mohair yarn. I hope she likes it. All 1200 + yds of yarn is winging its way to her now~