The good, the bad, the down-right fugly
The good...
My clappy made it's debut today! Where you ask? Um..yea.. in my lab. woohoo. I know, such a geek. But it's so soft and pretty, and I just had to show it off...even though it's only to my lab-mates. Hey, some audience beats no audience. right?
The bad...(swatching like a good girl)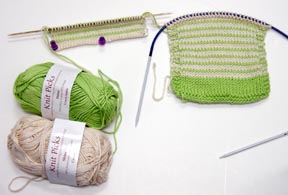 I received my Knitpicks yarn yesterday! woohoo. Couldn't wait to swatch. Notice how I don't have a gazillion loose ends hanging on either side by the time I'm done with each stripe sequence? It's magic baby. Okay, I might be a total retard to realize this magic goodness, but it's all in the circular needles. The back and front pieces of the Phildar stripey top will be knit in two flat pieces, so each time I get to the end of the cream and have to start the green sequence, if the green yarn is on the other end, I just slide my piece down the other side and knit/purl to get the stockinette stitch right. Not bad eh? I'm such a goofball. So stripey sweater, here I come. Since I labelled it "the bad", here's the reason for it. The pattern calls for US sz 2 and sz 5 needles, and my swatches turned out larger than the gauge. So it's down to sz 1 and sz 4 I go...unfortunately, I have neither. Ah..more money to spend. The yarn I am using is KnitPicks Shine in Cream and Green Apple (or apple green..whatever) and although it's a little splitty, it is soft. and cheap. and there's that.


The fugly...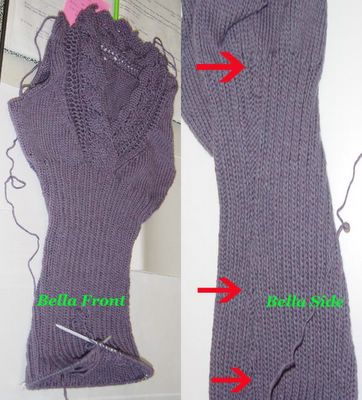 What is this, what is this? Well it's Bella Paquita! I only have 660 yds of yarn so I gotta get my priorities straight. And for this sweater, my priority is to have enough length in the body section to cover my long torso. Sleeves will come later, depending on how much yarn I have. If I have enough, it'll be 3/4 length as indicated in pattern. If not, I'll make it into a short puffy sleeve thingie. Its 2x2 ribbing is growing slowly but surely, but if you look at the side pics , the inc/dec for the ribbing at the waist is damn fugly. I tried making the stitches as invisible as possible, and tried increasing the stitches so that it would seem as if there was some pretty curvy line emanating from the center sts (suggested by Marnie herself), but I guess my knitting skills aren't up to par...yet. I've already ripped this out twice, and no more. If it's fugly, it'll stay fugly. At least it fits. But still, if you all know how to do inc/dec on k2p2 ribs right, please shed wisdom on this clueless biatch here.

There's the progress of the week. My new needles should come by the end of next week, which is when Andrea and I will cast-on together for the sweater. And who knows, I probably will have a finished, albeit fugly waist shaping Bella Paquita for your critiquing pleasure by next week. Stay tuned....