Conversation with Bella
Me: Bella.. I'd like you to meet bella_sleeve
Bella: Oooh.. look at her. She's so purdy. Oh look at that tubular cast on.
Me: I know.. isn't she a beauty? She's perfect for you.
Bella: ......
Me: What's wrong? Don't you like her?
Bella: I feel...I don't deserve her. I'm flawed..
Me: What? Nonsense. I made her just for you! You belong together.
Bella: Look me in the waist and tell me I am perfect!
Me: .....
Bella: Unless you plan on wearing me and never raising your arms..

********1 hour later********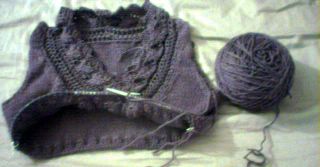 times like this I wish I had a yarn winder..
I guess those astrologers know a thing or two about Virgos being anal. Yes. I'm anal, on certain occasions. This yarn is too soft and too beautiful for such sacrilege. And hey, when it boils down to it, there's just one question to be answered. Do I want to (a) wear Bella Paquita indoors behind these four walls, or (b) parade her shamelessly in public?
I choose (b). I'm not a show-off, but my sweater is.